Root Canal Treatment In Federal Way, WA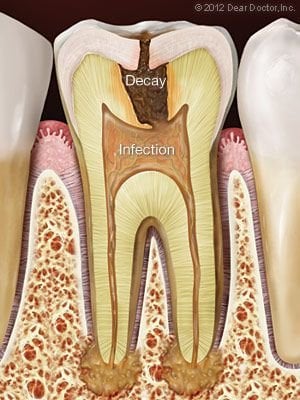 The area around the tooth is numbed with a local anesthetic to start the procedure. The dentist will then drill down into the tooth to create an opening into the canal. They will then be able to remove infected tissue and clean the canal. After the infection has been removed, the space if filled with a sealant called gutta percha. It is highly recommended that a tooth that has undergone a root canal is fitted with a Dental Crown. This will improve the appearance of the tooth, and will also make it much more likely that the root canal is successful.
"Root canal" has become a scary term for dental patients to hear, but the benefits of the procedure and advances in dental technology have made it much less "scary". Local anesthetics and proper pain medication allow the procedure to be performed with little to no pain in most cases.
There may be some soreness following the procedure, but that is normal for most dental procedures. Over the counter painkillers are usually enough to relieve any pain afterwards, but your dentist may prescribe medication. The procedure will also relieve you from pain caused by the infection allowing you to enjoy all the foods you love without any pain from heat, cold, or biting too hard. If you are experiencing pain consult your dentist today.
Signs and Symptoms of Root Canal Problems


How do you know when you need a root canal? Sometimes, it's painfully obvious. If you feel constant and severe pain and pressure in your mouth, or noticeable swelling and extreme sensitivity in your gums, then it's clear you need an evaluation and treatment right away. Another telltale symptom of pulp tissue damage is sharp pain when you bite down on food. Lingering pain after eating hot or cold foods is also an indication of potential trouble. If you notice any of these symptoms, you need to have an examination as soon as possible.
What to Expect During Root Canal Therapy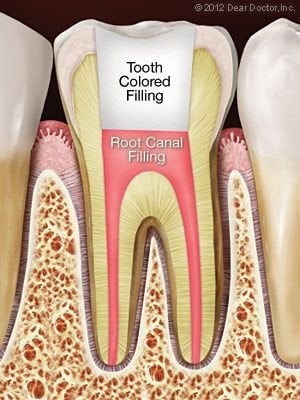 If an examination shows that you do need root canal therapy, don't worry — it's one of the most routine and effective procedures in the arsenal of dental treatments and can often be accomplished in just one visit.
The root canal process generally begins the same way as a filling does, and with no greater discomfort: an anesthetic is administered to numb the tooth and the surrounding area. For many patients, the worst is already over.
Next, a small opening is made in the surface of the affected tooth to give access to the pulp chamber and root canals. Tiny instruments are used, sometimes with the aid of a microscope, to remove the dead and dying pulp tissue from inside these narrow passageways. The chamber and empty canals are then cleaned, disinfected, and prepared to receive a filling of inert, biocompatible material. Finally, adhesive cement is used to seal the opening in the tooth, preventing future infection.
Following root canal treatment, your tooth may feel some sensitivity or tenderness for a few days. Over-the-counter pain relievers like ibuprofen are generally effective in relieving discomfort, but prescription medications may also be given if needed. During this period, it may help to avoid biting hard on the affected tooth. All of these symptoms, however, should be temporary.
To further protect the tooth and restore it to full function, it's usually necessary to have a crown or other restoration placed on it. Restorations can take many forms, from traditional gold crowns to tooth replicas made of high-tech tooth-colored material. In any case, you will have made an investment in preserving your dental health for years to come.


Do you need a Root Canal treatment or would like to learn more? Then call our Federal Way, WA
office today at (253) 517-9065 for more information or to book an appointment!